Green Alley Award
Discover the latest circular economy business ideas.
With climate change becoming more evident around the globe, a key question today is: how do we reduce the consumption of finite resources and maintain their value in the economy for as long as possible? We created the Green Alley Award to acknowledge the companies who are trying to find answers to this question.
The Green Alley Award is Europe's first startup prize for the circular economy. Since 2014, Landbell Group has presented the Award to startups whose innovative products, services or technologies help make the most efficient use of resources and reduce waste drastically. The solutions presented by these lateral thinkers range from sustainable materials to digital tools for a circular economy.
This makes Landbell Group the go-to-partner when it comes to innovations and new approaches in the circular economy. The Green Alley Award helps us discover promising sustainable business solutions before they enter the mass market and offer our customers new sustainable alternatives to improve their products, services and supply chains.
Green Alley Award at a glance
Green Alley Award live: Be part of our networking event
The Award ceremony takes place in Berlin and is a great networking event for entrepreneurs, corporates, experts and circular economy enthusiasts. Want to be part of it? Contact us now! cooperate-gaa@landbellgroup.com
Benefit from circular
economy startups
Early insights
Be the first to discover new trends and alternatives with the potential to make your business more sustainable.
Fast innovation
Collaborate with creative entrepreneurs and international circular economy startups to help foster innovations in your industry.
Market position
Benefit from a vast range of sustainable startup solutions for transforming your business strategy and growing your market position.
More agility
Transform how you work and differentiate from competitors by adopting circular economy innovations early.
Hall of fame: Introducing the
Green Alley Award winners
S.Lab
Product and technology: Sustainable packaging that consists of only two plant based components.
Benefits: Natural replacement of polystyrene.
Voltfang
Product and technology: Sustainable electricity storage system made from reused electric car batteries.
Benefits: Resources and environmentally friendly, fast and easy to integrate, scalable and adaptable, providing clean energy to companies at lower costs.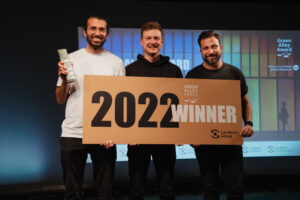 Traceless materials
Product and technology: Biobased home-compostable alternative to single-use plastic made of agricultural industry residues.
Benefits: Zero plastics, storage-stable, neither chemically modified nor synthetically polymerized, composting takes only 2-9 weeks, competitively priced with virgin plastics.
Gelatex technologies
Product and technology: Nanofiber production technology from high-quality raw materials.
Benefits: Toxic-free, cost-efficient, easily scalable, customizable.
Aeropowder
Product: Environmentally friendly insulation material made of waste feathers from the poultry industry.
Benefits: Conserving resources by recycling waste material; fully biodegradable; keeps products cool for up to 10 hours.
Sulapac
Product: High-quality containers made of wood and natural adhesives as an alternative to plastic packaging.
Benefits: Plastic-like properties; water, oil and air resistant; fully biodegradable; compatible with existing production processes; individual design.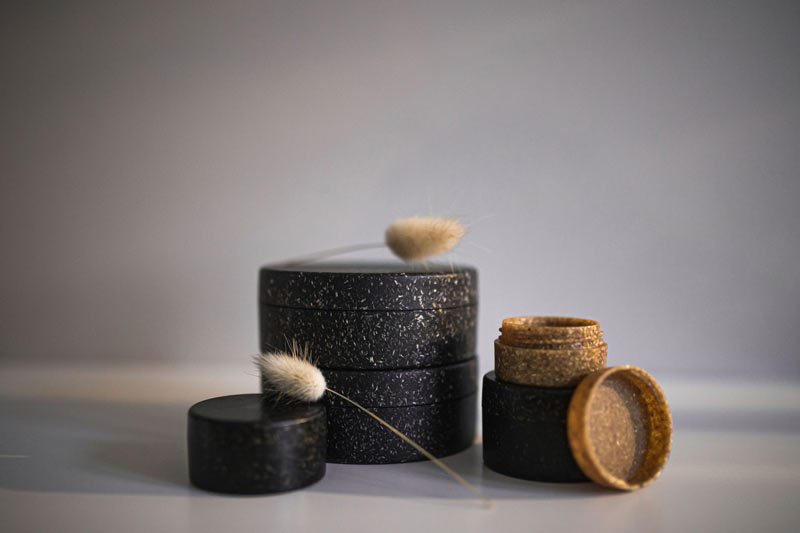 Adaptavate
Product: Low carbon building products from biomaterials for sustainable buildings.
Advantages: Fully biodegradable, non-toxic, breathable and anti-mildew, fire resistant, soundproofing.
RePack
Product: Sustainable shipping bag for online trading with customer bonus system.
Benefits: Reusable at least 20 times; made from recycled material; 3 different sizes; increased revenue for participating brands through reward system.
Go deeper
Want to apply as a startup? Head over
to the Green Alley Award website for
all the information you need.